2021 Board Members:
Craig Levins, President (Broward College) Elected 2020
Michelle Shaw, President-Elect (Florida Atlantic University) Elected 2021
Kathryn Pelham, Treasurer (Stetson University) Elected 2021
Mary Hoffman, Secretary (State College of Florida, Manatee-Sarasota) Elected 2020
Meet the Board: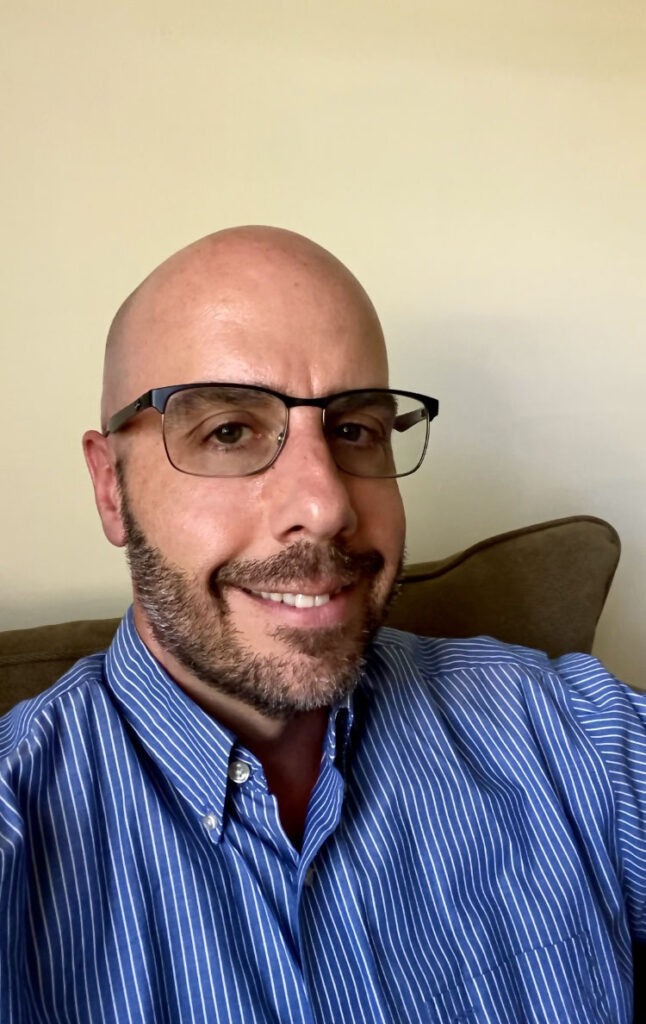 Craig Levins, President
Craig Levins earned a Master of Arts in Counseling Psychology from Antioch University, a Bachelor of Arts form Elmira College, and a Certificate of Advanced Assistive Technology Applications from California State University at Northridge. Craig has over 20 years of higher education experience within the accessibility field and as an adjunct professor of Psychology.
Craig joined Broward College in 2017 where he currently holds the role of Associate Vice President for Institutional Accessibility & ADA Coordinator. In this role oversees the Accessibility Resources, Electronic Information Technology, Assistive Technology, and college transition programs for neurodiverse individuals. He also serves as an adjunct instructor for the department of psychology. He has been instrumental in driving a culture change of inclusion and equity for individuals with disabilities at Broward College and to date has brought in $1,000,000 in grant monies to fund inclusive programs for neurodiverse individuals. Prior to his arrival in Florida, Craig worked within the State University of New York System since 1998. While in New York, he served on the executive board of the NY AHEAD affiliate and served on multiple committees and consortiums throughout the state during his tenure. Craig has been an active member of FL-AHEAD since 2017 and AHEAD since 2000. He is also a founding member of the Florida State EIT Consortium, where he continues to serve in the government relations and policy/procedure committee.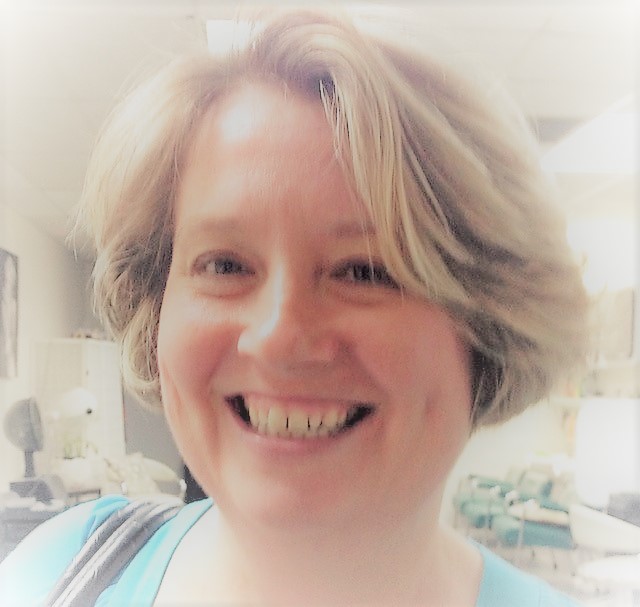 Michelle Shaw, President-Elect
Michelle Shaw earned her Bachelor of Arts in Education and Visual Arts & Master's in Education in Curriculum and Design with an emphasis in Exceptional Student Education at Florida Atlantic University. Originally, from Sheffield in the United Kingdom, she moved to Florida in 1990 to attend college. She has been working in disability services for 17 plus years. She has extensive experience in many areas of disability office operation including testing, volunteer coordination, consulting, assistive technology, ClockWork database admin, and has served as the Director for seven years. She has been an active member of the Association on Higher Education And Disabilities (AHEAD) and the FL-AHEAD group since 2005. Michelle has presented on a variety of topics at the National AHEAD Conferences in 2011, 2016, 2017, 2018, and 2019. She has been active and presented at the Independent Colleges and Universities Compliance and Ethics Consortium at Lynn University since 2018. Topics include Emotional Support Animals versus Service Dogs, How to track your data confidentiality, Working with Athletes with Disabilities, Importance of Closed/Live Captions, Working with Students on the Spectrum to name a few. She has also been an Adjunct faculty member in the College of Education since 2003 (ARE 4313: Art for Elementary Education).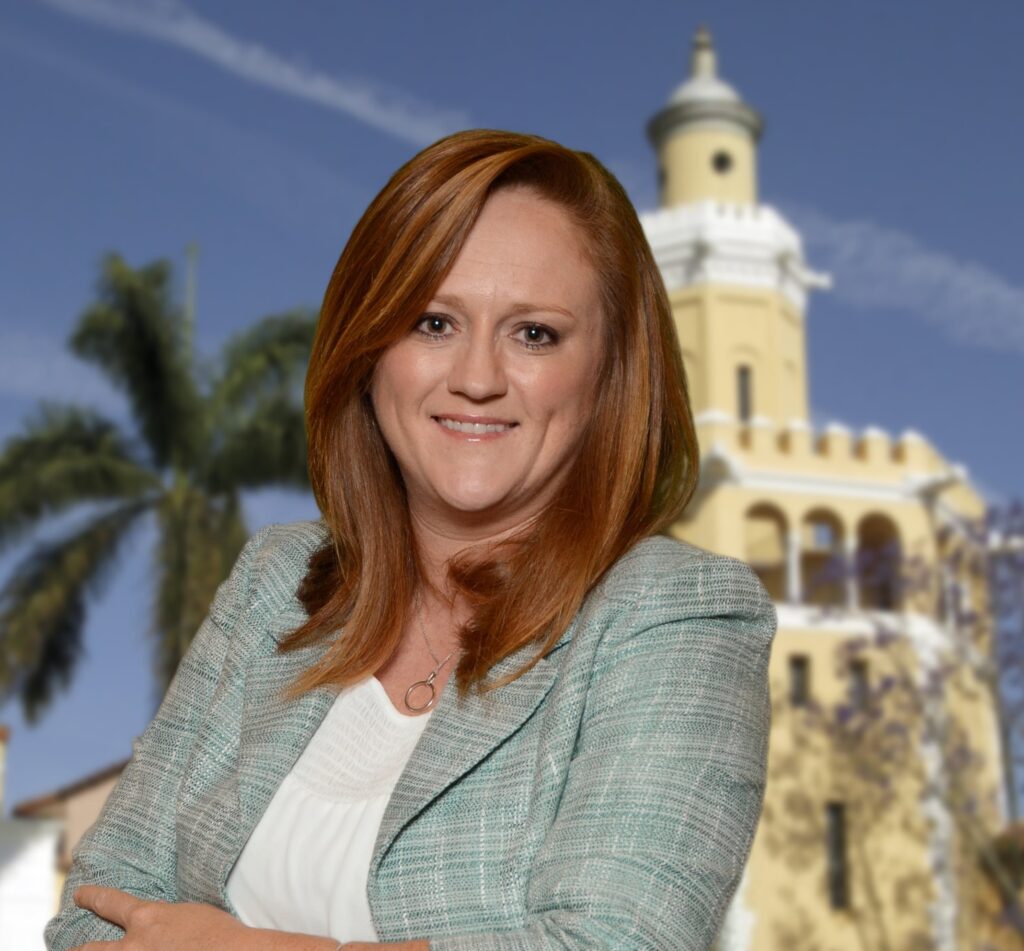 Kathryn Pelham, Treasurer
Kathryn Pelham earned a Bachelor of Science in Business Administration, and a Minor in Economics from the University of South Florida in 2002; and her Juris Doctor degree from Stetson University College of Law in 2006. She has been a member of the Florida Bar since 2006 and practiced as an Assistant State Attorney, Guardian ad Litem Attorney, and established a solo practice focused on the areas of Adoption and Family Law, Child Dependency, and represented First Responders under Florida's Heart and Lung Bill in Workers' Compensation cases.
Kathryn returned to Stetson Law, as an Assistant Director of Academic Success and Bar Preparation in August 2012. In 2017, she became Associate Director and in addition, assumed the responsibilities of the ADA Coordinator for the College of Law campus. In January 2018, Kathryn founded the Office of Accessibility Resources at the College of Law. In her current role as Associate Director of Accessibility Resources & ADA Coordinator, she strives to increase awareness of disability issues and equitable access to legal education. She has been a member of AHEAD since 2017 and presented at the 2019 national conference on The ADA and Legal Education: Where Disability Law Meets Law School. She is also a member of the National Association of Law Student Affairs Professionals (NALSAP) and co-presented at the 2018 international conference on Best Practices in Implementation of Reasonable Accommodations in Times of Increased Demand for and Increased Complexity of Accommodations for Students with Disabilities. In 2021, she worked closely with law students to help them establish the founding chapter of Disability Allied Law Students Association (DALSA) at Stetson Law.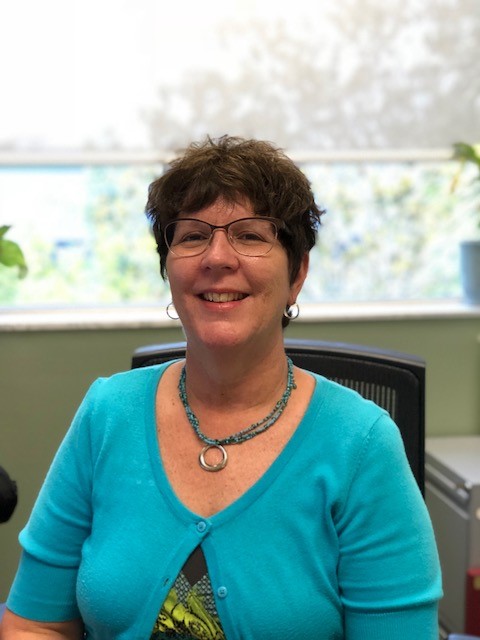 Mary Hoffman, Secretary
Mary Hoffman earned her Bachelor of Science degree in Business Management and Finance from the University of Tampa. She worked for 23 years in the corporate sector, specifically within the banking industry before transitioning to higher education in 2014. As the Accommodation and Assistive Technology Specialist at State College of Florida, Manatee-Sarasota, Mary provides individualized and specialized support services to students with disabilities at three campus locations through the provision of information, training, and technical services. She is responsible for the installation, maintenance, and training on a variety of computer software and equipment. This includes, but is not limited to text-to-speech, speech-to-text, screen readers, magnification, and other software designed to provide students access to learning and education, thus promoting increased independence for students with disabilities. She assists the Disability Coordinator with the provision of alternate format print materials for individuals with visual and print disabilities.
Mary works collaboratively with faculty and information technology services staff to ensure access to classroom and on-line learning, for students with hearing, vision, and print disabilities. With a substantial increase in courses offered online due to Covid-19, Mary has acted as an instructor for SCF's eCert Course, providing guidance, resources, and information to instructors as they transitioned into an online course delivery method. Mary maintains an enthusiastic approach to student learning, promoting the use of technology and campus resources for students with disabilities. She actively promotes universal design with faculty, administration, and staff across campuses in order to improve learning opportunities for all students and encourage faculty to consider the needs of individual students with disabilities who may be in their classrooms. Mary was a first-time speaker at the 2019 ATIA Conference where she presented with Dave Tucker, CEO of Sonocent Ltd. on the differences between traditional notetaking methods and the use of technology.